Omega 1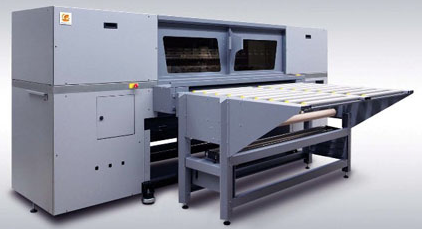 The new Omega 1 UV inkjet printer defines a new quality standard for sign makers, graphic display companies, screen printers, photolabs and studios. It provides fine art printing quality at an industrial production level, all from an entry level machine. Designed with the typical high precision of Durst and manufactured with the most modern production technology in the heart of Europe, the Omega 1 is fully in keeping with the Rho tradition. However, its production level and price are designed to meet the needs of the entry level customer. The fine art printing quality of the Omega 1 is achieved by a resolution of up to 1728 dpi, greyscale printing technology and a large colour gamut, thanks to the optional process colour additions (PCA) of orange and violet, grey, light magenta and light cyan. The precision transport of the printheads is by advanced magnetic linear drive, further ensuring consistently accurate printing.
Omega 1 key features
---
The Omega 1 combines Durst`s 10 years` experience of both flatbed and roll to roll printing technology and can print rigid and flexible material without compromise to either. The machine will print onto media like Kapa®, Forex®, Acrylic, Dibond® and wood up to a thickness of 5cm, as well as onto self adhesive foils, papers, PVC vinyls, PE foils or textiles. It is very compact in size, only requiring 15m2 floor space, yet it will print large images up to 160cm wide by any length, which is only limited by the media length, and at a production speed up to 35m2 per hour.

The high quality universal UV Omega 1 inks are supplied in 1litre cubitainers to ensure that the ink retains its optimal performance even at low production levels and provides perfect adhesion on hard, non- absorbent surfaces as well as flexible material. They will also provide excellent adhesion on such materials as metals, polycarbonates and acrylics, particularly important to sign makers.

The new Omega 1 is the ideal printing tool for graphic display companies, sign makers, screen printers, photolabs and studios who would like the opportunity to enter the UV inkjet printing technology without the risk of investing in an entry level machine that does not have the backing of the most competent partner in inkjet technology – Durst.
---
Technical Data
General Specification Printing system:

Patented Durst flatbed and Roll to Roll UV Inkjet printer for the finest quality and the highest production speed

Resolution:
Up to 1728 dpi
Colours:
Standard version: CMYK Plus version: CMYK Light Magenta and Light Cyan PCA version: CMYK Orange and Violet Optional: Grey, White

Inks:
UV-curable pigment inks for interior and exterior applications

Ink supply:
Integrated ink reservoirs allow refilling during printing. Simple refilling with 1 litre non-returnable contai- ners that can be easily collapsed for an environ- mentally friendly disposal

Software/RIP:
Durst Rho Linux software for very fast processing with minimum storage capacity on the hard disk. Caldera RIP Server (CopyRip)

Productivity:
up to 35 m2/h (376 ft2/h)
Media specifications

Media types:
Wide range of rigid and flexible roll media, uncoated and coated textured surfaces such as hard foam sheets, soft foam sheets, aluminium, acrylic glass, and self adhesive foils, papers, PVC vinyls, PE foils or textiles.

Maximum printing width:
160 cm (62 in.), media dependent

Maximum printing length:
Only restricted by media length

Media thickness:
Roll to roll: up to 2 mm (.07 in.), media dependent Boards: up to 50 mm (1.95 in.)
Maximum media weight:
Roll to roll: Up to 50 kg (110 lbs) Boards: Up to 50 kg (110 lbs)

Smallest sheet size:
DIN-A3 – 29.7 x 42 cm (12 x 17 in.) Multiple small sheets like business cards can be printed with a template.

Registration of materials:
Materials are registered with a mechanical front stop and a left or right guide. An encoder measures the transport sequences, ensuring utmost precision in image alignment.
General specifications

Dimensions (w x d x h):
Printer: 390 x 105 x 170 cm (154 x 42 x 67 in.) Printer and tables: 390 x 380 x 170 cm (154 x 150 x 67 in.)

Weight:
Approx. 2000 kg (4410 lbs)

Safety standards:
Complies with currently valid EU guidelines (2006/42/EG)

Location requirements Space requirement:
See sketch below

Maximum height:
2.400 m (8.000 ft) above sea level

Temperature range:
+15 °C to +30 °C (+59°F to 86°F)

Relative air humidity:
25 - 80%, non-condensing
Raj kumar Poddar - [email protected]

September 20, 2023

Buy and Sell

Noritsu Qss green 2 lab prise & cortisone please send me

Raj kumar Poddar - [email protected]

September 20, 2023

Buy and Sell

Wedding album lab parpose

Antonio verdejo - [email protected]

April 22, 2023

Technical Support: Agfa, Konica, Kis, Doli

Hola necesito software de la kis 1710 y discos de la aplicación gracias.
We buy, sell, refurbish and service different brands of such as: